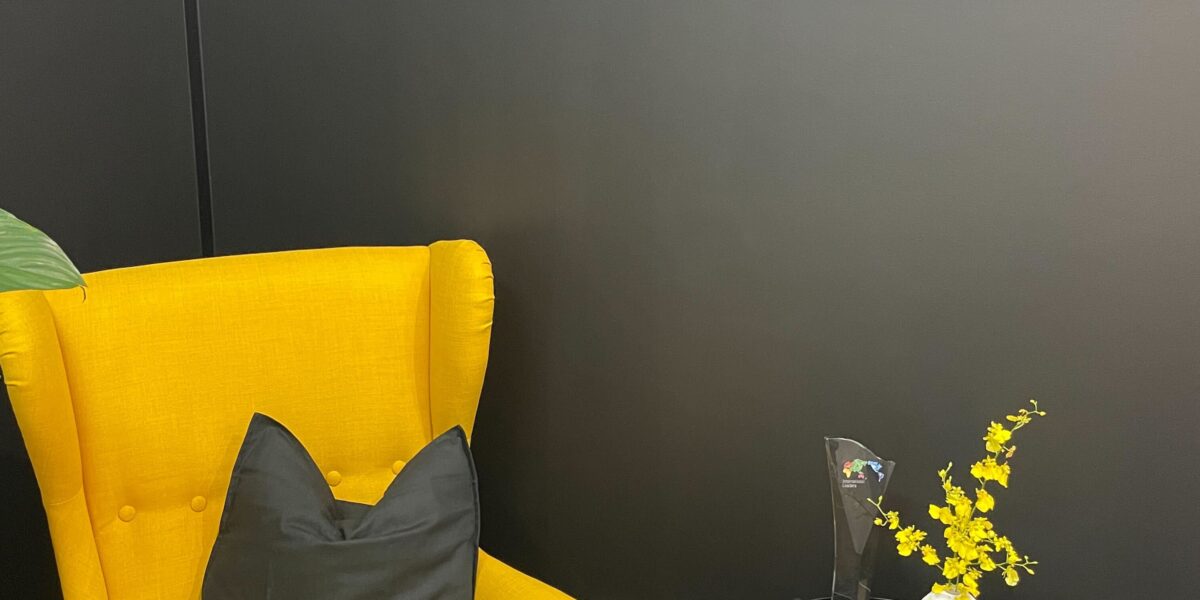 Resonate Consultants move to a brand-new Melbourne office
After patiently waiting through COVID-19 restrictions, Resonate Consultants' Melbourne contingent moved into our new premises in October 2022.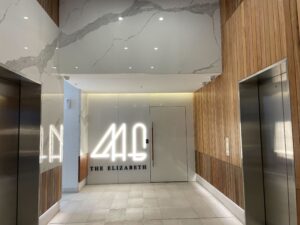 Providing space suited to our needs and in a more centralised location, the opening of our new office provides great opportunity to physically reunite after a few years of Victorian COVID-19 lockdowns and remote working.
Headed by Tom Evans and Damien van Raaphorst, the Melbourne team comprises of 14 staff members who bring a depth of experience and skills to their positions within our acoustic consulting firm.
This wide-ranging experience of Resonate Consultants employees means that since opening the original Melbourne office in 2012, this branch has confidently delivered a number of key projects across a range of sectors. From helping Zoos Victoria keep platypus healthy from electromagnetic fields to consulting on the design and construction of the University of Melbourne – Werribee Development, to working on wind farms such as the Macarthur Wind Farm and Bald Hills Wind Farm, project work has been extensive and diverse.
Further project work has even included working with SBS Radio Melbourne to redevelop their existing space and incorporating innovative solutions into the design of the Victorian Pride Centre.
By moving to a new office location, our organisation can continue to develop our expertise in these project areas while also looking to provide further acoustic consultancy services to a thriving city. With Melbourne currently in the midst of an infrastructure boom, and is set to be the largest Australian city by 2029, there are new transport and building projects planned for the city. All set against the backdrop of residential buildings and land.
Take a look at our new Melbourne office here:
On the 25 October, we welcomed clients and associates to our new office with an opening party. View the social photographs from the event here.
'Re-opening the office encouraged a sense of pride and happiness from sharing a moment with clients whilst hosting them within our "home". I witnessed an excellent demonstration of our teamwork and collaboration as everyone worked together to chip in and make the event memorable,' Sarah Leo, CEO, stated about the opening.
Resonate Consultants are grateful for the early years support whilst launching into the Melbourne market when Dominic Lai presented an opportunity to reside within the existing then-known Umow Lai office space. This collaboration and support provided an opportunity for Resonate Consultants to find their feet and is representative of the depth of relationships we establish with our clients and wider community.
Our diverse Melbourne acoustic consultants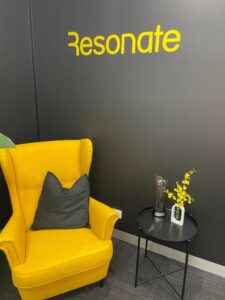 On any given day in our new office, our approach to flexible working provides opportunity for the team to work from the most efficient location. This open-minded approach to working arrangements is central to our organisation enjoying the reputation of being one of Australia's best workplaces. In fact, in May 2022, we were awarded with Great Place to Work Certification.
As a people-first organisation, such an accolade means that employees are not only noticing but also actively enjoying the little things that Resonate Consultants does in order to increase employee satisfaction.
In particular, when we conducted the signature Great Place to Work survey, 93 per cent agreed that community is a focus. Meanwhile, 91 per cent agreed that both camaraderie and integrity are also a priority for Resonate Consultants.
With company values centring around collaboration, this new office location truly allows us to live by those principles. 'The new office environment really enhances our collaborative and knowledge-sharing working style. All of which helps to improve resources and increase our availability for clients,' Tom said.
As the team of acoustic consultants within the office encompasses a broad variety of different experience levels and skill sets, reuniting in the brand-new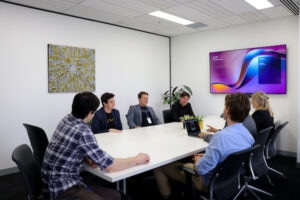 Melbourne office space also presents as an opportunity to keep fostering our core value of unity; collaborating to share knowledge across all disciplines, and working together as one team. This was noted by a client at the office opening event, who mentioned, 'I may work with Lucy, Artur, Jake or Damien and still be confident that I will receive consistent advice and client service.'
Damien van Raaphorst, Associate Director with team lead responsibilities, began his career at Resonate Consultants almost nine years ago. At that time, there were just two people in the Melbourne office.
Today, there are 14 employees and the Melbourne office provides a space for employees to come together. By sharing the same working space staff can collaborate more efficiently and effectively. All of which helps to deliver better project outcomes for our valued clients.
Contact one of our Melbourne acoustic consultants today.
440 Elizabeth Street, Melbourne CBD