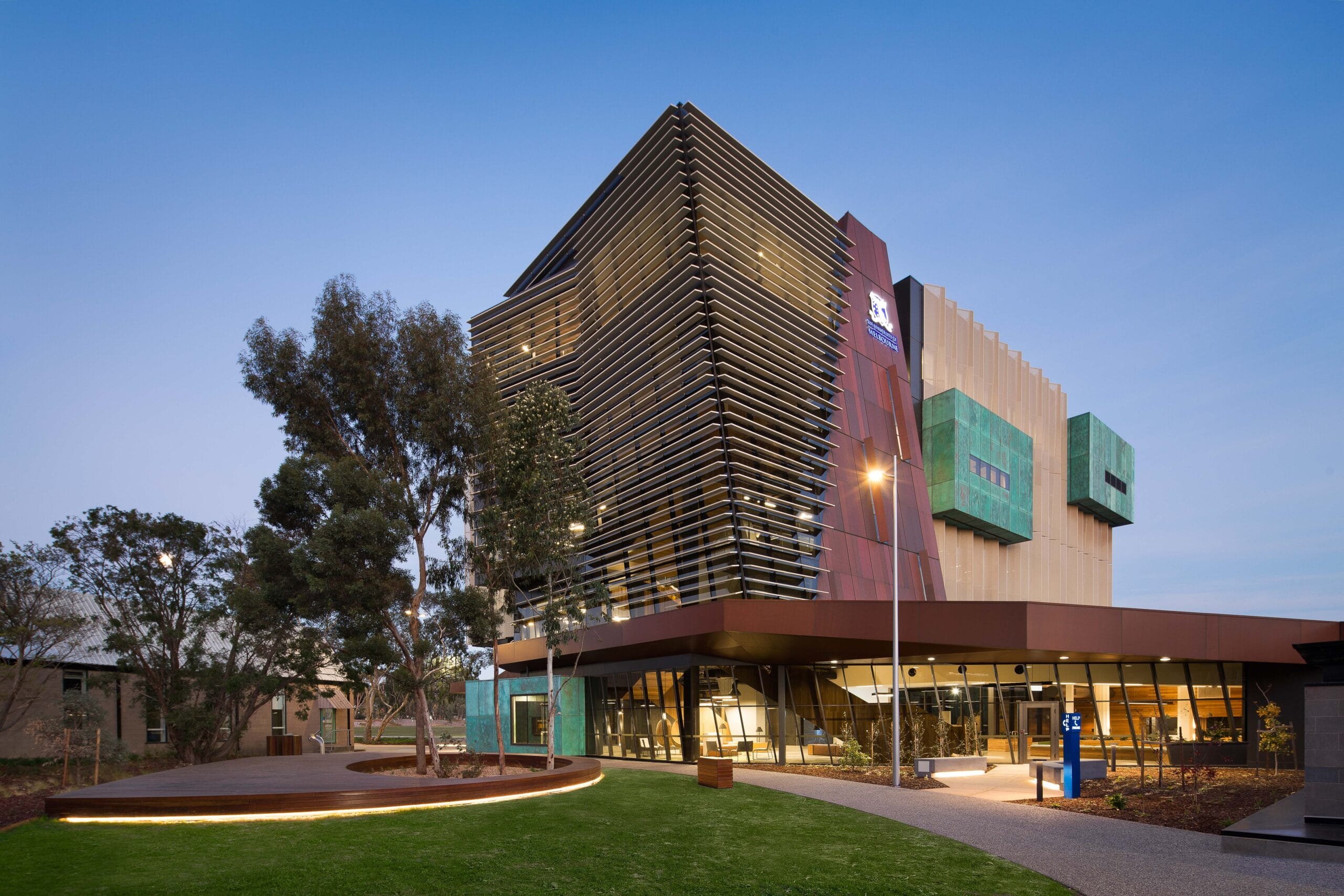 University of Melbourne – Werribee Development
Date
2016-2019
Location
Werribee, Victoria
Client
Umow Lai & The University of Melbourne
Project Value
$63m
Team Members
Damien van Raaphorst
Description
Resonate Consultants provided acoustic consulting services for this $63M world class veterinary education and hospital project, which includes a five-storey Learning and Teaching Building and a two-storey extension to the existing Veterinary Hospital.
The Werribee Learning and Teaching Building hosts approximately 500 students per week and provides students with cutting-edge technologies and equipment in purpose-built facilities, including specialised teaching, dry, dissection and clinical skills laboratories, a surgery teaching suite, a library, collaborative learning spaces as well as end-of-trip & recreational facilities.
The U-Vet Werribee Animal Hospital extension treats more than 25,000 animals each year and provides treatment for pets with an enhanced experience for owners and hands-on clinical experience for veterinary students. The building upgrade includes an intensive care unit and emergency ward, a new reception area with segregated waiting areas, additional consulting suites, a new cat ward, an exotic pet ward, student learning spaces, and administrative offices.
Client Need
The University of Melbourne required the project to consolidate their existing large animal research facilities at both Parkville and Werribee campuses into the Werribee Large Animal Research Facility. The new facilities provide world-class learning and teaching environments, which align to the University's strategic learning and teaching plans for the future. The new Learning and Teaching building was also required to achieve a high Green Star rating.
The acoustic requirements for the project included the University's own Design Standards, as well as following the Green Star acoustic requirements.
Resonate's involvement
Resonate was involved throughout the entire design and construction phases of the project; providing architectural acoustic advice and assessment of both internal and external mechanical services noise. Of particular note was the design of specific research rooms where potential high noise spaces were required to be acoustically separated from noise sensitive zones.
Resonate provided design advice for the walls, glazing, floors and doors to achieve suitable noise attenuation between spaces and specified acoustic absorption throughout the project to control reverberation times, especially in classrooms, meeting rooms, and library areas. A comprehensive assessment of the mechanical services design was also required to ensure that internal noise levels met expectations.
Outcome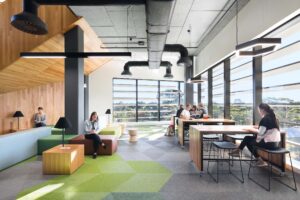 Resonate worked closely with the project architects BLP and the building services engineers Umow Lai to create acoustically suitable spaces for the students and staff. The assessment and design of noise from the internal mechanical services was particularly challenging due to the exposed ceilings throughout many spaces on the project. This challenge was overcome through the use of sufficient lengths of internally lined duct and acoustic absorption on the underside of the floor slabs.
Following construction, the new Learning and Teaching building achieved a 6 Star Green Star rating, with acoustic design of internal noise levels and acoustic separation provided by Resonate to facilitate this certification.
View the completed project on the following websites:
Umow Lai: The Melbourne Vet School
BLP: University of Melbourne Werribee Redevelopment
BLP: University of Melbourne U Vet Hospital