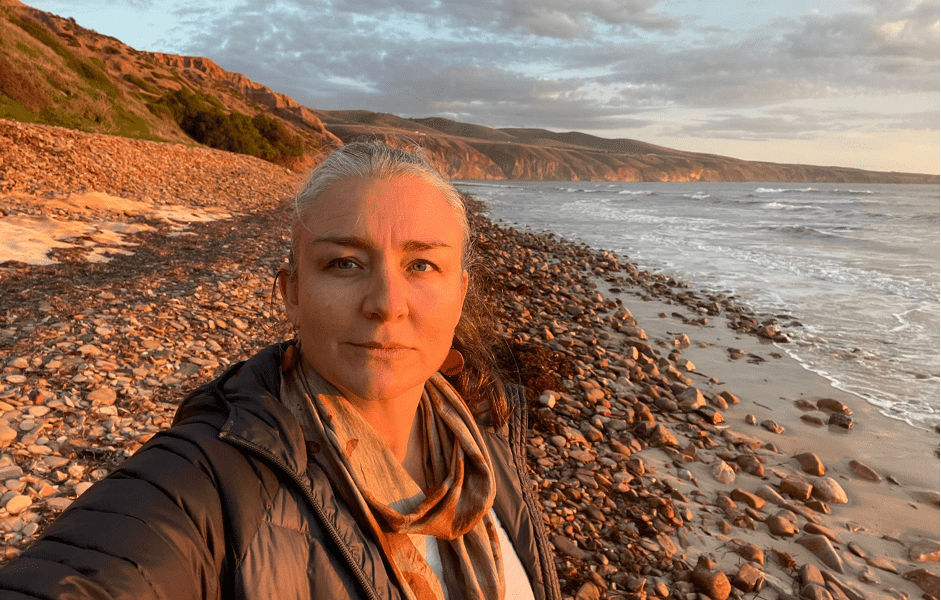 Headfirst into a people-first acoustical services realm
Meet the COO: Sarah Leo
After joining Resonate Consultants in a General Manager capacity in 2019, Sarah Leo was appointed Chief Executive Officer (CEO) in January 2020 and then Chief Operating Officer (COO) in late 2022, and soon found herself navigating the impacts of a pandemic. Hailing from a business administration background with a passion for client service, Sarah brings to the role a unique mix of people management along with finance and marketing nous.
While Sarah's career trajectory has been anything but traditional, her experience in roles ranging from office supervisor to board member and general manager has allowed her to bring a softer skill side to the typically demanding role of COO.
'Most of what I bring to the role is people-focused,' said Sarah. Whether in a personal or professional capacity, Sarah 'makes time for people.' Because, at the end of the day 'business is typically client-first, and when you are also team-first and the team has the energy and motivation to delight clients. The team need to have the strength and the passion to deliver on your promised values, so you have to invest in their wellbeing and development,' Sarah explained.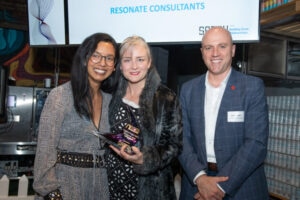 Another aspect of investing in that team mindset is prioritising the notion of flexibility, an idea that originally drew Sarah to our award-winning acoustical services firm. During the interview stage, Sarah found that 'Resonate didn't fit with my previous perception of a professional service firm. They were advanced in their approach to the workplace and broke traditional thinking.'
As Resonate Consultants prioritises being distinctive, the company is very flexible. This level of flexibility means that everyone from team leaders to graduate are afforded the opportunity to fulfil personal obligations and complete their work as it best fits. This inherent trust has benefits from the COO-down and complements Sarah's belief in Stephen Covey's approach (outlined in The 7 Habits of Highly Effective People) to identifying the important things and fitting these into your week.
For Sarah, it means that on particularly challenging weeks, she can elect to pop out briefly to attend a highly choreographed aerobics session five minutes up the road, before returning to focus on the work day feeling inspired and more focussed than before. This is especially helpful for Sarah when you consider that her role has two very distinct parts. There is of course the need to drill down into details when looking at aspects such as finance and governance systems, but there is also, as Sarah explained, a need to be 'creative and think outside the square to get an umbrella view' when contemplating strategic and market related activities. All whilst leading the team to recognition.
For other workers, the ability to be flexible shows that Resonate Consultants 'trusts people to do the work.' As Sarah elaborated, 'people are thriving, because they are able to be trusted to bring that whole of life balance.' For Sarah, 'the evidence is in the team engagement, client satisfaction and repeat clients.'
As the company looks to the future, further fostering our team-first approach remains front of mind. Always looking to review practices, Sarah mentioned that one of the current discussions surrounding workplace culture centres around the concept of a four-day work week. This possible adoption highlights the Resonate Consultants' preparedness to challenge the status quo. 'At Resonate, we are big on growing the whole person, not just the acoustic engineer', said Sarah. For this reason, they have recently given team members access to the mindfulness HeadSpace app. As well as a wellbeing allowance which provides an opportunity to invest in aspects of their life that will help them to Sharpen the Saw™, another of Stephen Covey's theories.
As the company looks to the future, further fostering our team-first approach remains front of mind.
This inherent focus on the person mirrors the trajectory of Sarah's own career. Perhaps unintentionally, Sarah has, as she explained, gone with the flow and grabbed career or development opportunities with both hands in an attempt to 'broaden myself.' This includes expanding her experiences through sitting on boards and committees to forming new leadership book clubs, facilitating forum groups for Family Business Australia and even instructing fitness classes.
Sarah has also made a concerted effort to actively help our acoustical firm in the quest towards providing employees with access to both professional and personal assistance. Like offering Employee Assistance Programs, personal coaching and access to further education in areas such as leadership and Aboriginal and Torres Strait Islander cultural competence.
Sarah is also excited about Resonate Consultants' future as 'having a big focus on innovation. We have developed a structured approach to innovation for both internal efficiencies and commercialised products (driven by Deb James).' This focus on innovation ensures we remain true to one of the core foundational values- ingenuity. Plus, this active pursuit of finding new and improved ways of doing things also acts as a way to further foster our team-first approach and motivate employees.
'We've got so many smart people,' said Sarah as she confirms they look for team members who display the Patrick Lencioni virtues of being humble, hungry and smart with smart extending to understanding people; clients and colleagues. 'What I see as the benefit is that working on these innovation projects allows them to bring all of their talents to work. That actually warms people up and inspires them by providing a mechanism to invest their skills and interests and develop these further. I see people coming to life when they get to work on some of these projects, providing better solutions for their client or teammates.'
While Sarah helps Resonate Consultants navigate through the new working landscape post-pandemic, she also plans to continually engage in endeavours that will improve her leadership and overall professional development.
Learn more about our reputable acoustical services team.