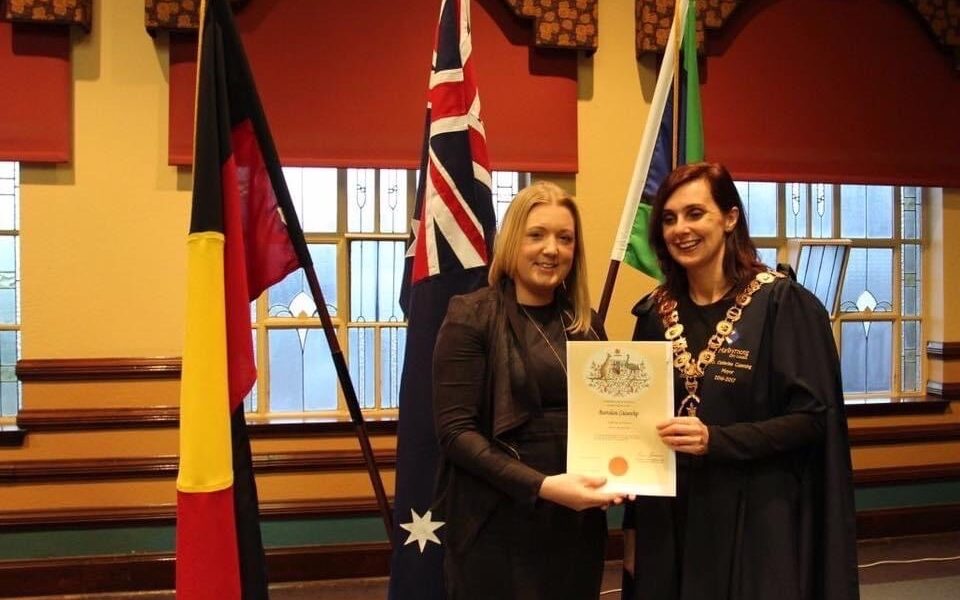 Caring about the community as an acoustic engineer in Australia
Meet Principal Consultant, Lucy Bowden
With over ten years of experience in the acoustic consultancy space, Lucy Bowden has recently been promoted from a Senior Acoustic Consultant to one of Resonate Consultants' Principal Acoustic Consultants. Possessing both international and Australian experience as an acoustic engineer, Lucy brings considerable technical experience and leadership prowess to this role.
Through her role with Resonate Consultants, Lucy has gained a reputation for her leadership skills, often stepping in to assist the team leader. To help promote the team-first environment fostered by our award-winning acoustic firm, Lucy endeavours to help everything go smoothly.
Whether assisting other staff, talking through project queries, or offering moral support, Lucy said that she 'makes sure everyone is focussed on what they need to do for ultimate client outcomes.'
While the promotion to Principal Acoustic Consultant came as a surprise, Lucy intends to balance the technical side of this new role with continuing to learn from and collaborate with her colleagues— whether they are experienced in the field or graduate acoustic engineers seeking mentoring. This particular focus on mentoring stems from the trajectory of Lucy's own career. 'Something that doesn't take much time at all can easily help someone out', said Lucy. Having worked in a variety of different workplace settings, Lucy understands the value of being open and readily available to have a chat. Because, as Lucy said, 'I know how useful sharing information is.'
Thanks to one of Resonate Consultants' key values surrounding being united, Lucy has been able to collaborate with various team members to deliver a multitude of impressive regional and metropolitan projects. From Warrnambool Learning and Library Hub and the Victorian Schools Building Authority to Wyndham Law Courts and Victorian Land Registry Services— now rebranded to Secure Electronic Registries Victoria— projects, Lucy is committed to delivering great outcomes, not only for clients but for the broader community.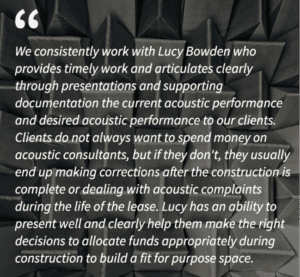 Involved from concept through to completion, the Resonate Consultants team is working to future-proof Wyndham Law Courts. Ensuring that the new facility houses hearing rooms, chambers and holding cells that have been designed with acoustics in mind. This way, in the age of remote operating environments, user experience and privacy will be assured and sound acoustics in architecture taken into consideration.
Lucy also has the distinct ability to problem-solve. There is often a unique set of challenges present when upgrading existing facilities. Currently in construction, Warrnambool Library is slated to be a new learning and library hub. However, part of the structure is a heritage building. By employing our core values of unity and a client-centric approach, Lucy and the team were able to provide solutions that would garner the best result while still staying true to the client's overall needs and wants. With the heritage building providing difficulties in terms of acoustics, Lucy said that the team plans to make the older area a more transient space, utilising elements of acoustic planning as well as smart treatment placing to garner the best results.
Through dedication and a commitment to advancing herself and the organisation, at Resonate Consultants, Lucy has been able to achieve her professional ambitions. However, as we place emphasis on individual and community responsibility, Lucy is also able to set and achieve personal goals. For example, our charter on wellness for everyone. Whether providing access to the Headspace app, supplying Fitbits to workers or offering healthy snacks and fresh fruit in the office, Lucy said that these initiatives 'help people allow time in the day' for being healthy, even if working.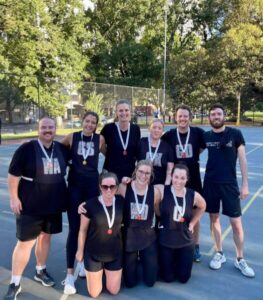 While Lucy is passionate about promoting and organising events such as Dry July and STEPtember and stair taking challenges, she is also passionate about taking part in community service ventures. Lucy shared that due to a reasonable flexibility in hours, she is able to volunteer in the local community at Central Bayside Community Health Services, by visiting older people, either at their homes or in aged care facilities, who might want company while they have a cup of tea or engage in a hobby. An endeavour that will ultimately help Lucy, as she embarks on this new role, continue to display Resonate Consultants' commitment to behaving in a caring, ethical, lawful and sustainable manner. Whether it be when communicating internally or engaging with clients and the broader community.
If you're interested in joining an Australian acoustic engineering firm that isn't like the rest, then please take a look at our acoustic consultant jobs here.