The importance of sound acoustics in architecture in the courts system
Acoustic design project work: Court Services Victoria
As one of Australia's leading acoustic engineers Resonate Consultants are often tasked with some of the country's most important projects. This has been the case in our work with the buildings of Court Services Victoria (CSV), which we have taken on recently. This project has not just been CBD-centric, as we have worked on a number of locations in Melbourne's inner and outer suburbs for the Victorian Civil and Administrative Tribunal (VCAT), a division of Court Services Victoria.
This sound acoustics architecture project has taken an unusual tilt, in that Resonate Consultants were tasked with working through the acoustic design of online hearing spaces and ensuring compatibility with AV systems as a direct response to the COVID-19 outbreak. With government restrictions and social distancing requirements, it quickly became imperative to ensure there were high quality online hearing rooms to relieve the backlog brought about by the pandemic.
Alongside Resonate Consultant's work with CSV, our work with VCAT has proven important to the public in providing a less formal setting for hearings and being predominantly community based. Resonate Consultants have worked across three locations in Victoria, in the Oakleigh, Frankston and Bundoora facilities respectively.
Considering sound acoustics in architecture
These projects have enormous societal impacts and demonstrate why it's so crucial to consider sound acoustics in architecture.
In providing both formal and informal hearing settings, the Victorian State Government alongside Resonate Consultants, CSV, and VCAT, all ensure there is opportunity and availability for hearings to run their course. Resonate Consultant's work in acoustic design is incredibly important, as if not done properly, issues arise such as internal noise levels being too high, reverberation being excessive and other problems understanding speech which can hinder the operation and viability of the courts.
Lucy Bowden, Senior Acoustic Consultant, explained: 'Acoustic design is important for courts and hearing rooms to ensure the spaces are conducive for their proposed usage. It is essential throughout court buildings so that speech privacy is provided which is critical to the operation of the courts.'
Furthermore, the VCAT venues have been built to include a Koori Hearing Room for dispute resolution services, featuring Aboriginal flags, artwork, and possum skin cloaks, designed to make Aboriginal or Torres Strait Islanders feel comfortable in their surroundings and ease the intimidating nature that can come with court or tribunal hearings. 'There is increasing recognition in courts and in other parts of the justice system that legal processes have failed to take into account the cultural background and rehabilitation needs of Indigenous peoples,' the Australasian Institute of Judicial Administration (AIJA) acknowledges. And creating a space with accessible and culturally appropriate design for dispute resolution is a small part towards mitigating that.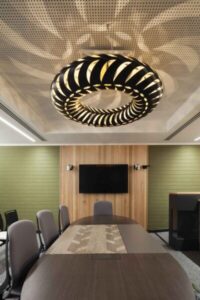 Resonate Consultant's work on this project has taken us to a number of sites across suburban Melbourne and required innovative and forward thinking solutions to inherently modern day problems, such as designing hearing spaces specifically geared towards online hearings in the wake of the COVID-19 pandemic and resulting lockdowns. Additionally, we have been incredibly proud to have worked on VCAT's Koori Hearing Rooms and being able to contribute to services designed for our Indigenous communities.
The success of how we have provided solutions for sound acoustics in architecture in this project has been gauged by the positive feedback received from our client and the wider community that make use of these spaces. Reaction online has confirmed that Resonate Consultant's work has exceeded expectations and that the VCAT venues have achieved the less formal setting that was desired.
We became involved with this important project through our existing client relationships with JLL, that have been built and nurtured since Resonate Consultants was founded a decade ago. Providing client focussed consultancy services Resonate Consultants had been able to develop relationships with clients and businesses, which has resulted in opportunities to be part of some outstanding projects, such as these.
Benchmarking for future acoustic projects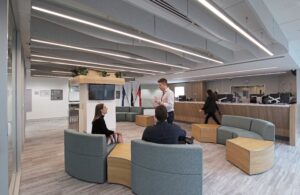 The experience gained in benchmarking acoustic requirements, specifically in terms of internal noise levels, reverberation and acoustic separation, particularly important on a project such as this, will serve as a guide for future work undertaken by Resonate Consultants.
'If acoustics are not considered during the design of the courts and associated spaces, they may not be fit for purpose,' Lucy explained. This is why our work with CSV and VCAT has proven so crucial to the success of both spaces.
Resonate Consultants are a group of innovative, client focused acoustic engineers. To find out more about how we can positively influence your project, contact us today.