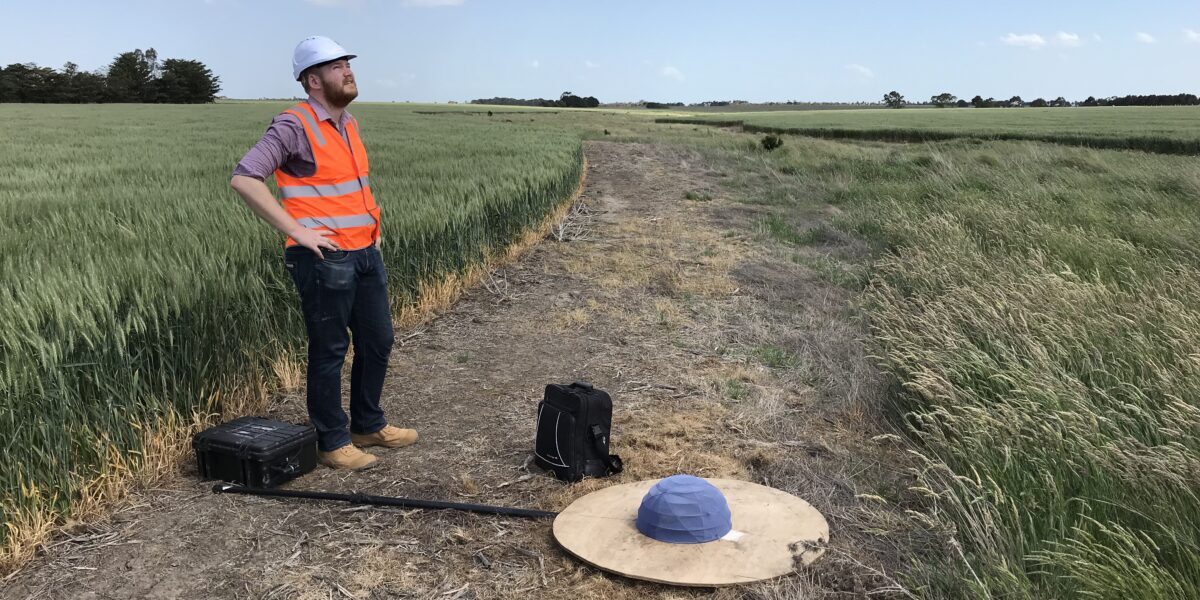 On a technicality: the acoustic engineer trajectory
 Meet our Technical Director, Tom Evans
Starting as an unassuming work experience student in 2005, straight out of university, Tom Evans was tasked with his first project: build a city noise map of the Adelaide, CBD. Impressive by all means.
Under the guidance of Matthew Stead, who was National Acoustics Manager at the time, and working alongside Deb James, Darren Jurevicius and Jon Cooper (at another organisation before the founding of Resonate Consultants), Tom has been part of this acoustic engineer crew for the entirety of his career. He transitioned across to Resonate Consultants in 2012, shortly after it began, as it offered an opportunity to sufficiently delve into client service whilst honing the specialist skills that we offer.
Tom's role today as Technical Director entails focussing on strategic disciplines and project delivery aspects, making sure the technical services offered are of the highest calibre and generously align with clients' needs whilst providing valuable input to projects.
During increased infrastructure construction at the start of 2014, resulting in a heightened need for acoustic engineers, Tom moved from Adelaide to Melbourne to help expand this branch of the firm. A move he is still delighted with.
This move also furnished Tom with the ability to expand his skillset nationally as an acoustic engineer and dive into the challenge of becoming familiar with the state's requirements for noise and vibration assessment. All whilst building new relationships. Since arriving in 2014, he has been part of taking the team from three people to twelve.
Although he has an advantageous broad skill set, he doesn't discount the ability to genuinely add value to client work.
From the outset of his career, Tom has naturally focussed on more environmental and transport projects, which links with his interest and his initial professional experience. Because of the quantity of projects appearing in South Australia, he was fortunate to gain experience with measuring, predicting and assessing noise from wind farms. And to this day, he brings a generous amount of technical knowledge to our clients' wind farm projects.
Tom always had a fascination with and leant more towards the environmental facet of his professional life as he marries being an acoustic engineer with his personal concentration in sustainability, which is why working on these projects is all the more meaningful. Additionally, witnessing large infrastructure projects being designed and built (and the multidisciplinary process behind it) fulfils him.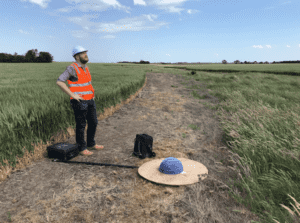 Although he has an advantageous broad skill set, he doesn't discount the ability to genuinely add value to client work. 'The areas I work across— wind farms, transport infrastructure and sensitive laboratories, and linking those with vibration and electromagnetic fields (EMF), is really where clients place value on the acoustics and vibration advice that we provide. They can often be make-or-break aspects on the project. So developing a solution is a critical and gratifying process.'
'The aspect that I've tried to bring to all our client service work is having a broader perspective on the project and ensuring our advice is cognisant of the opportunities and constraints for other disciplines. This means our advice needs to consider the work from structural engineers and other building services, offering a practical, workable outcome,' explained Tom.
Tom details a career highlight in that he has had the opportunity to gain international expertise across varied interesting projects. Including two weeks in the northern Philippines testing noise levels at Burgos Wind Farm, as well as visiting New Zealand as an independent council-appointed expert reviewing consent conditions for Te Rere Hau Wind Farm.
And Tom's involvement as an expert witness does not end there. Recently, he was called upon to provide expert evidence to the Suburban Rail Loop Inquiry and Advisory Committee after leading Resonate Consultants' contribution to the environmental effects statement for the project.
Another meaningful project to Tom is providing vibration, electromagnetic field and acoustic advice to the University of Melbourne for their Ruth Bishop Building and Ian Holmes Imaging Centre, which houses up to ten electron microscopes that contribute to world-leading research conducted at the Bio21 Institute. The microscopes are amongst some of the most sensitive in the world, and the site is situated near an existing tram line, which emits vibration and electromagnetic fields, posing a challenging environment for the critical equipment.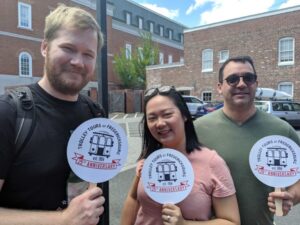 This experience meant flying to Virginia in the US and working with our EMF partner, Field Management Services, to develop a practical and manageable solution for that facility. This involved a combination of passive shielding (high-performance metallic shielding around the room) and an active shielding system (an electronic shielding system) to counter the EMF and protect the microscopes. The EMF shielding was carefully coordinated with vibration isolation systems for the microscope.
Tom has loved working on unique projects like understanding the environment of the platypus enclosure at Zoos Victoria's Healesville Sanctuary, and the Metro Tunnel Project, where Resonate Consultants provides advice to neighbouring health facilities around managing EMF, vibration and noise risks.
'I've found myself doing some quite unique things that I'd never thought I would be doing. Such as creating a test rig for electromagnetic fields to assess the sensitivity level of specialist medical equipment to a train line that doesn't yet exist,' Tom stated.
Looking to the future, Tom is enthusiastic about continuing the project delivery side of his job, and helping the Resonate Consultants' team grow and develop their skills and make sure the technical services that we offer are the best they can be.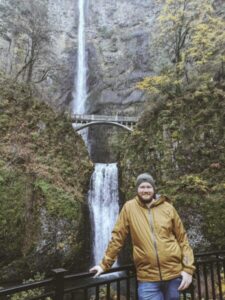 Outside of work, Tom loves travelling with his wife. While COVID-19 restrictions have limited their ability to travel internationally, they have seen him discover parts of Australia that he might not have done in ordinary circumstances. Recently, they took a 4WD campervan through the centre of Northern Territory, travelling from Uluru up through Katherine to Kakadu and Darwin.
'Seeing the landscape change from red dirt to tropical waterways reminded me how unique our country is and how important it is to preserve our varied environments,' said Tom.
Looking for the right technical acoustic engineer for your next project? Discuss your needs with us today.