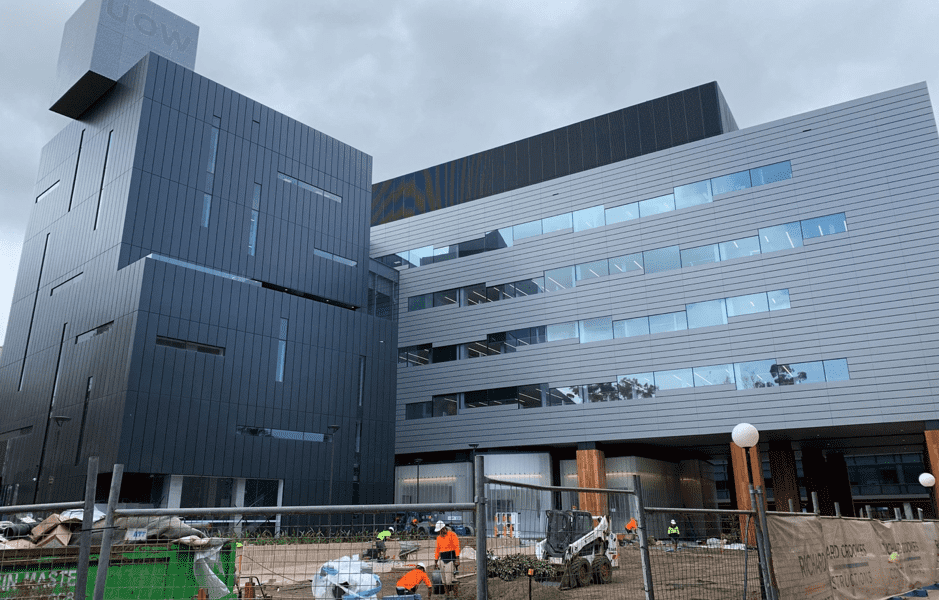 University of Wollongong Mollecular Horizons Building
Date
2015-2019
Location
Wollongong, NSW
Client
Capital Insight & Richard Crookes Constructions
Project Value
$80 Million
Team Members
Matthew Stead, Tom Evans, Matthew Tripodi
Awards
2020 Master Builders Association (MBA) Excellence in Construction Award for Tertiary Buildings $50M – $100M
2020 Master Builders Association (MBA) Excellence in Construction Award for Innovation – Construction Technique/Equipment.
Project Description
The $80 million Molecular Horizons Building spanning 6900m2,  is a collaborative research facility for the University of Wollongong, designed by Denton Corker Marshall and Jacobs. The building's design has been driven by the highly sensitive cryo-electron microscopes housed on the ground floor, which will be used for molecular research to improve and save lives.
Client Needs
The building houses three cryo-electron microscope suites, specially designed to house $25 million of highly advanced microscopy equipment that is incredibly sensitive to vibration, acoustics and electromagnetic field interference (EMF). The building also includes PC2 laboratories, research areas, workspaces and bio-resources areas with key requirements for acoustic and vibration design input.
Resonate's Involvement
Resonate was engaged during the feasibility stage to assist in determining the appropriate location for the building, ensuring ambient levels of vibration and EMF were sufficiently low. We provided vibration, acoustic and EMF design services for the cryo-electron microscope suites during design before being engaged by Richard Crookes Constructions to deliver the full vibration, acoustic and EMF design as part of the D&C contract.
Outcome
The building was completed early in 2020, with commissioning testing for vibration, acoustics and EMF occurring in late 2019. See the results here.
Innovation
Resonate's early engagement during the feasibility study was critical to the success of the project. Initial vibration, acoustic and EMF site surveys were used to inform the project team of the suitable location for the building. This meant that the existing conditions did not necessitate expensive and impractical mitigation as part of the building design.