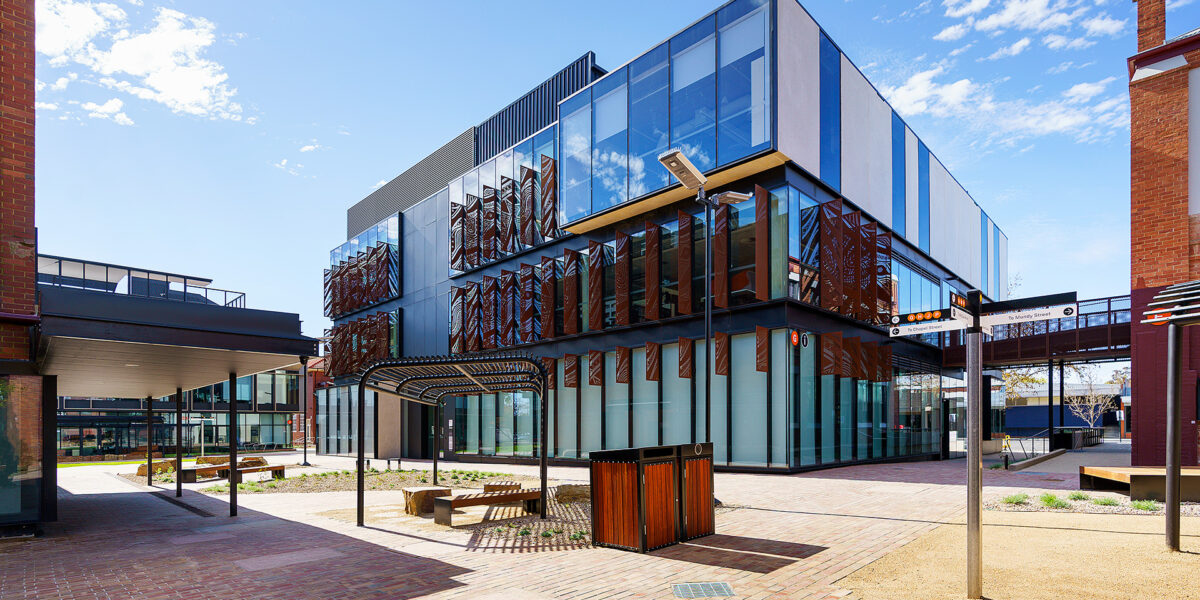 Awards
2022 Joseph Reed Award for Urban Design, Australian Institute of Architects Victorian Chapter Awards
Description
The scope of the works included working with Architectus to deliver new builds, refurbishments and upgrades to multiple buildings, in particular:
Delivery of a new modern and fit-for-purpose education facility – Building G – integrated with existing heritage significant Buildings E & H
Refurbishment and repurposing of existing heritage Buildings E & H
Delivery of a new Learning Hub and an Industry Innovation Centre (within Building E / G / H)
Enhanced open space and amenity on campus
Introduction of modern utility and technological infrastructure, and
Site preparation, enabling infrastructure and interface treatment for the commercial and community precincts
In addition to new spaces for teaching staff and administration personnel, the type of education spaces delivered in Building's E, G & H related to courses in business & management, hospitality, learning support & employment services, hair & beauty, art, design, music, media and information technology. Find out more about the importance of acoustics in classrooms in our article.
Client Needs
Being an educational institution, particular attention was sought for a myriad of teaching spaces throughout the new and refurbished buildings that are part of this development.
Resonate's Involvement
Resonate was involved throughout the design and construction phases of this project, providing acoustic consultancy works for a multitude of aspects, such as:
Designing architectural elements to achieve the acoustic criteria established, including assessing the building's facades and roofs
Conducting an environmental noise assessment, including noise logging, and designing solutions to control noise emissions
Preparing town planning reports
Conducting internal noise assessments, including reviewing mechanical services documentation and designing solutions to control noise emissions, and
Construction inspections outlining rectification works
Outcome
Resonate designed the open plan, staff and teaching spaces to provide internal room acoustics conducive to appropriate speech and aural interaction, as well as acoustic privacy and noise isolation from building services.
The control of plant noise emissions to internal spaces and adjacent land uses ensured adequate internal noise levels and compliance with EPA regulations.
Innovations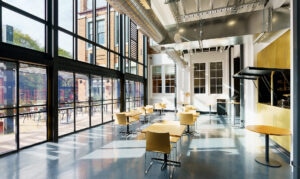 Since speech and aural interaction (acoustic communication) are very important in the teaching and learning process, particular attention and meticulous acoustic design and advice was provided to the speech/communication performance within all educational spaces. These were design to maximise the facilitation of effective learning within very different designs – from refurbished spaces with pre-existing masonry exposed walls to new built industrial inspired spaces containing exposed mechanical services, metallic grids and concrete ceilings.
Photography credit: Shayne Hill