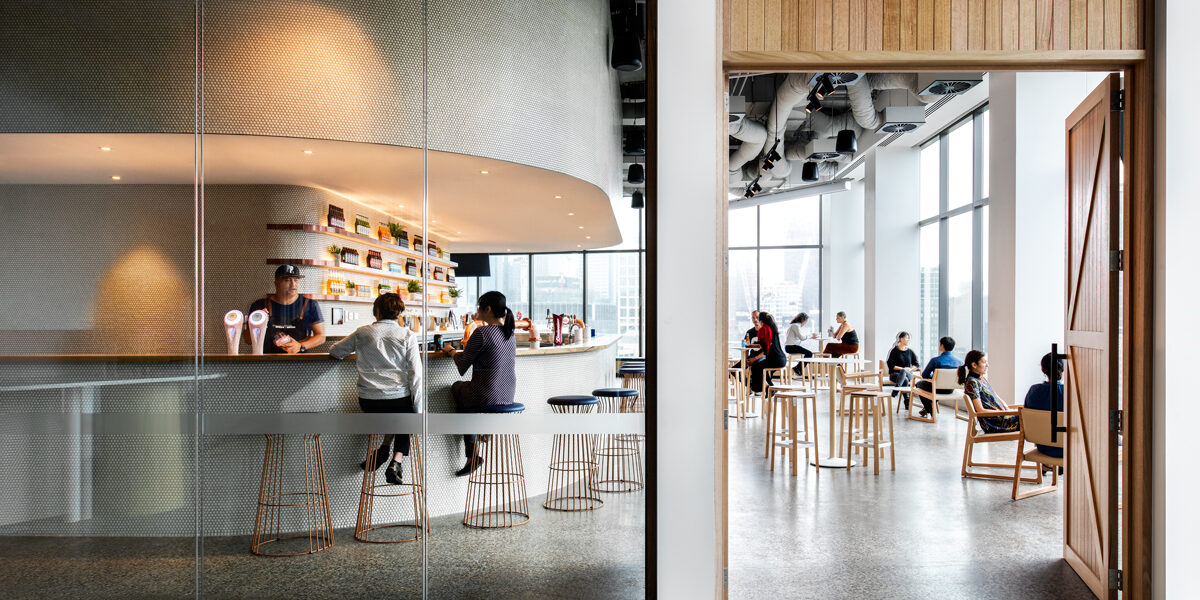 Description
This project included the refurbishment of approximately 6,000 sqm of flexible office space across three levels, including a fully functioning bar area and training suites in a double height space.
Client Needs
Carlton & United Breweries required office space that supported a highly collaborative workforce, with a design focussed on providing flexible meeting spaces over cellular offices and complimenting a fluid approach to modern working.
Resonate's Involvement
Resonate were involved from concept design through to completion, initially attending stakeholder engagement meetings alongside project managers, Montlaur, architects GroupGSA and services engineers Umow Lai, to ensure the needs of the occupants were translated into an acoustically pleasant working environment.
GroupGSA undertook their own study to understand the work culture at CUB, which identified the need for collaborative spaces over traditional cellular offices. The extent of open plan and flexible working space presented its own challenges, with limited areas available for acoustic treatment and acoustic separation. Furthermore, the architect's desire to have exposed services in the bar area presented two significant challenges – 1) to achieve suitable internal noise levels with large items of mechanical plant, and 2) controlling reverberation with a polished concrete floor and largely glazed façade.
To deliver on the brief, the layout of the office space was carefully considered. Meeting rooms were strategically located between the breakout areas and open plan work areas to provide acoustic screening, and placement of glazed partitions were carefully considered to maintain an open feel, whilst affording some acoustic separation. Detailed HVAC modelling was undertaken to ensure internal noise levels would be acceptable within each of the rooms. Acoustic absorption was cleverly incorporated to the underside of exposed cable trays and in perforated perimeter bulkheads.
Outcome
A high-quality fit-out was completed in late 2018 by building contractors, Shape. The attention to detail was exceptional. Resonate attended the soft opening of the offices, held in the newly commissioned bar, and noted that speech from the presenter was clear and intelligible despite the voluminous space and largely reflective finishes.