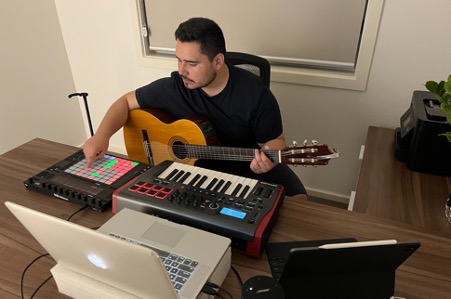 Impressive ground-level experience provides client advantage
Meet Alex Salazar one of our acoustic consultants in Sydney
 Resonate Consultants are delighted to welcome Alex Salazar to the Sydney acoustic consultants team in 2022. Coming on board as an Acoustic Consultant, Alex has played a variety of roles in the audio industry so far. From his beginnings in live performance and audio production, and warehousing for a major audio brand, he developed a keen interest in learning about sound on a deeper level. Combining these early endeavours with a Master in Architectural Science (audio and acoustics) and professional acoustic consulting experience, Alex brings an exciting array of perspectives to his new role.
It's clear that Alex has lived and breathed sound throughout his life and career. Growing up, he began to notice that where others were more aware of new sights or scents, he was fascinated by the experience of hearing new sounds. He has always been curious about 'not just going to new places, but hearing new places.'
He has always been curious about 'not just going to new places, but hearing new places.'
After completing a Bachelor of Music, he admits he wasn't certain that the traditional career paths on offer for his degree were suited to him. While his now-wife went on to become a high school music teacher, he didn't feel it was his personal calling. 'I performed live here and there. I worked with friends in the studio and did a lot of roadie work at festivals. There were a lot of weekends and a lot of nights. It wasn't sustainable.'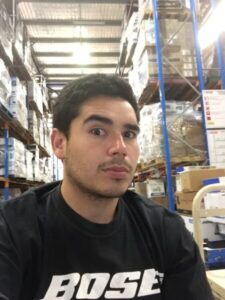 Alex took a job in warehousing at Bose, to which he applied purely because it was an audio company and would provide a stable work life balance. He, impressively, worked his way through various roles there before reaching a position in the office. With a growing curiosity to see how things were done, audio technicians and Bose Professional team at Bose obligingly introduced him to aspects of audio technology, including Bose Modeler a 3D modelling sound system software. Once Alex decided to study acoustics at the Master's level, everything seemed to click into place.
'From day dot of that university course, I found a love for sound and science again. I just fell in love with it more every day— it felt like all of my little journeys had led to this.'
Alex was hired straight out of graduation as an acoustic consultant, but his shift to Resonate Consultants is perhaps an even more serendipitous story. He was already following Resonate and their projects through their strong online presence in the acoustics community, and no positions were being advertised when they met. In fact, he wasn't even looking for a new role. But during the meeting, the staff and management culture at Resonate firmly stood out.
'Resonate focuses more on the client. It was clear there was a forward-thinking attitude where if the client is happy and you're doing great work, there's no need to collect strict timesheet data linked to KPIs. It allows more time to be spent on innovation.'
Whilst being with Resonate Consultants, Alex has also noticed a more congenial and collaborative atmosphere in the office that matched his own approachable demeanour. 'When you speak with anyone at Resonate, you can't help but notice that they all build each other up. They put others first, they're appreciative and thankful.'
Upon starting his position, Alex jumped at the opportunity to undertake a short course in Australian Indigenous culture offered by Sarah Leo, the CEO. 'I signed up straight away. Professionally, of course, you want to be better, but you also want to learn how to be a better human being.' This culture of innovation and self-betterment at Resonate also connected with Alex's closely-held values. 'They invest in innovation. It's an important part of who they are – they don't act like they've got it worked out. There's always room for growth. Straight away, they were talking about things they've developed in-house.'
One piece of forefront technology that takes Alex's interest at Resonate Consultants is auralisation. This innovation enables an anechoic audio file to be played inside a simulated or measured space which creates a first-hand listening experience of what a sound in an environment might be like before work is completed.
'To be able to show clients what they're going to hear, not just a paragraph describing the sensation would make a huge difference. A lot of better decisions could be made if we had that. It's the next step, and Resonate is in the midst of it.'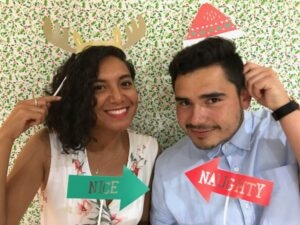 The long term aspiration for Alex is to be at the helm of a consultancy company. He hopes to be involved in bringing acoustics into common awareness and contributing to the growing acoustics community.
In his spare time, Alex plays soccer with friends and creates sound designs. With his wife also being a music teacher, they soon hope to find a home with a spare room they can dedicate to their music and audio hobbies.
If you're interested in joining an acoustics firm with a forward-thinking management style, contact us today. Find out more about our acoustic consultant jobs here.