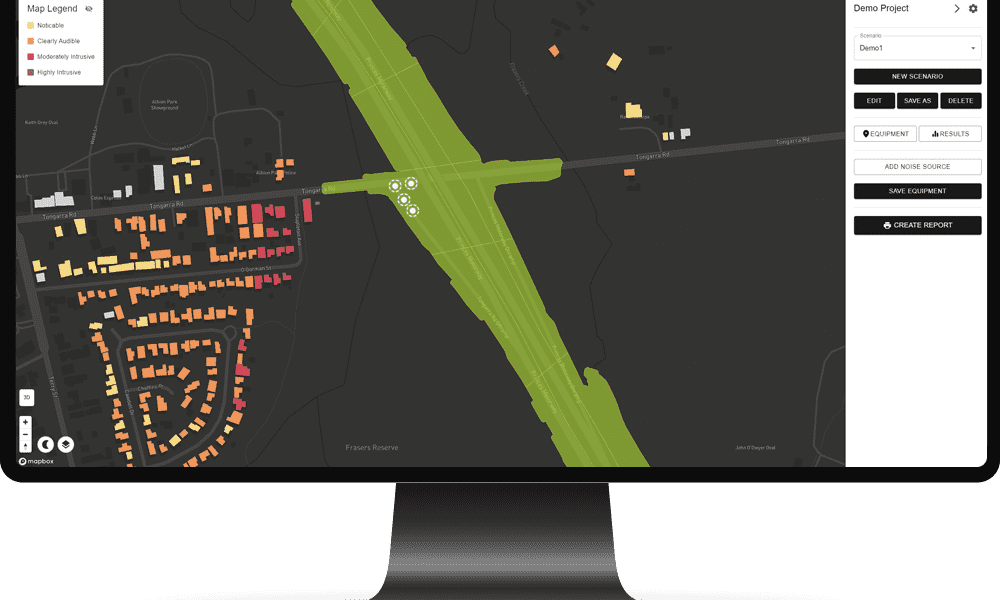 SoundSite saving time on major construction projects
Leading acoustic software for infrastructure site noise management
Construction noise and vibration management plans play an essential role in constructing major infrastructure projects and managing their impact on the surrounding community. These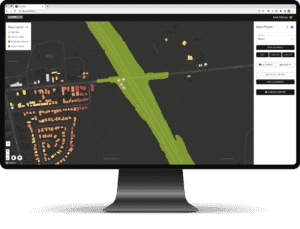 plans are meant to be live documents that evolve as works on the ground progress, sometimes over months or years. However, revising and updating these plans in light of changes to proposed works can be quite costly. Both in terms of monetary and time-related efficiencies.
SoundSite— a web app that can be used by acoustic consultants and their clients within the construction industry— bridges the gap between acoustic modelling and actual works on site.
A tool specifically designed with the user in mind, SoundSite allows construction contractors to self-predict, self-assess and self-report their own noise from construction activities. Helping to not only streamline predictions, assessments and approvals but also, importantly, to make noise predictions more accurate and target mitigation measures to where they are actually needed. Sometimes contractors will spend a lot of unnecessary time and money over-managing and over-mitigating noise or vibration impacts because they don't have sophisticated prediction and measurement tools available to them to quantify the actual impact.
Nick Henrys, Principal Acoustic Consultant at Resonate Consultants, in collaboration with developers at SoftPositive, have been working on this innovation project for the past year. 'We wanted to create a tool that helps us deliver the best outcomes for our clients,' Nick said.
'I had the initial idea for SoundSite more than six years ago,' Nick explained. 'I was working on the City Rail Link project in Auckland's CBD. It's New Zealand's largest ever construction project, and there was a huge amount of scrutiny around the impacts of construction on neighbouring residents, hotels, and businesses. We helped the contractor prepare extensive site-specific noise and vibration management plans. Every time they brought in a new bit of equipment or something changed significantly on the ground, they would outline the changes to us, we would re-run the noise model and then update the relevant management plans. The whole process would take about a week each time, as a minimum. It struck me as very costly, time-consuming and inefficient.'
Nick thought, 'it would be great if the site engineers could accurately predict the noise impacts themselves'. However, the available noise prediction software at the time was very clunky and had a steep learning curve.
Taking site noise tools to the next level
While there are now other construction noise and vibration management tools, SoundSite takes the notions of site management, instant noise predictions and reporting to the next level.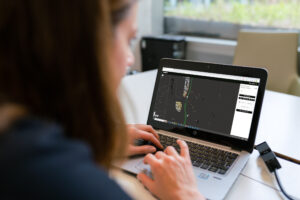 'Working collaboratively with our team of software developers has allowed me to focus on the core noise and vibration prediction functionality, while they have brought their immense skills and experience to the user interface and software architecture. I've dabbled in coding from time to time, but my main skill set is acoustic consulting. The result with SoundSite is a thousand times better than if I had tried to do it alone! The feedback we've had is that the user experience is very slick and painless compared to other similar tools.'
It's also allowed development to progress rapidly while Nick remains busy doing day-to-day acoustic consulting work and listening to the challenges users face with construction noise and vibration management on the ground. 'We've actually got a lot of exciting new features in the works that have come from user feedback, which is great,' Nick explained.
SoundSite is already being used on major projects such as the New Bridgewater Bridge in Tasmania. 'Users are telling us it is much better than other methods and tools that they have used in the past', Nick said.
Allowing for both easy assessment and management of planned works in real-time, SoundSite helps to ensure that contractors onsite can be proactive. Rather than relying on acoustic consultants to re-model and re-assess project-related impacts due to equipment, operating hours or locational changes. SoundSite provides a streamlined solution. The site environmental manager or engineer can simply drag and drop noise sources onto the map, and the results arepdateed instantly. Reports are produced at the click of a button.
By providing contractors with the tools to update project-related information seamlessly, 'the big win is how much time it saves,' Nick explained.
Saving time and project strain
Without an acoustic tool like SoundSite, contractors have to wait for consultants to come back to them with updated noise prediction results and management plans, which are needed before approval can be granted for works to proceed. This then has the potential to place unnecessary strain on project deadlines and the associated budgets. 'As acoustic consultants, we always do our best to try and turn around predictions and reports as soon as possible, but it doesn't compare to the instantaneous nature of SoundSite,' Nick stated.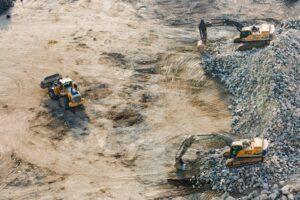 SoundSite allows for increased operational efficiencies, providing more accurate and immediate noise modelling results, which also benefits the broader community. In the past, construction projects were often not as close to people's residences and didn't have the level of regulatory requirements and scrutiny that major projects now face. With increased urbanisation, the broader community is also becoming more conscious of transport and construction noise effects and impacts.
'Projects can have quite severe noise impacts if not managed well, and the community have greater expectations and more avenues to voice their concerns than ever before,' Nick explained. 'SoundSite is a tool that helps control noise and ensures that contractors have the ability to be more proactive when it comes to noise management and get on top of noise issues before they can cause serious damage to community goodwill towards a project.'
From spreadsheet to fully functioning acoustic software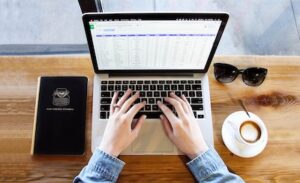 The development of SoundSite from an excel spreadsheet to a fully functioning intuitive web app epitomises Resonate Consultants' core values. This is largely because this all-encompassing tool represents our desire to pursue genuine acoustic innovation in order to better the industry and the broader community.
Further, rather than retaining SoundSite exclusively, 'we want to make it available to other acoustic consultants,' Nick explained. 'Our whole value system is not to hoard knowledge; we share it.'
At the end of the day, this ensures that both Resonate Consultants' clients and the clients of other acoustic consultancy firms can enjoy improved client services and streamlined project processes.