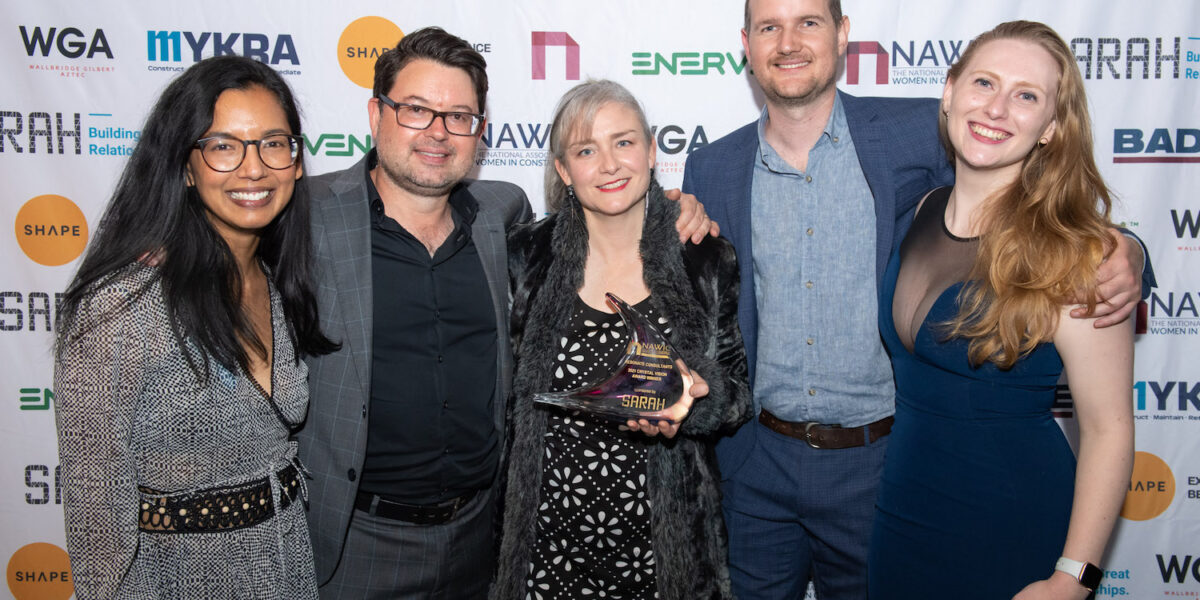 Women in Leadership Australia – Award
Crystal Vision 2021 Award
On Friday, 12 November, as an award-winning acoustic engineering firm Resonate Consultants added another meaningful award to our collection by winning the National Association of Women in Construction (NAWIC) Crystal Vision 2021 Award for our excellence in empowering and supporting women.
The Crystal Vision Award is a prominent South Australian award that recognises a female-led organisation in the construction, property or related industries. The criterion looks at organisations' initiatives that benefit and empower women, actively promote the inclusion and advancement of women, and implement important "firsts" for women in the industry.
Resonate Consultants' initiatives and practices lead the industry by being a noteworthy organisation for diversity and women, and promoting women in leadership in Australia, as this key award recognises.
Resonate Consultants is a largely female-led organisation, supported by a female workforce of over 30 per cent, uncommon for the male-dominated industry. A solid female leadership team, comprising Sarah Leo, CEO, and Deb James, Director of Innovation, supported by Briony Hillard, National Finance Manager, influences our organisation's culture and policies and extends this to the broader community.
Knowing that support comes from within, Resonate Consultants consciously and enthusiastically develop our female employees and unhesitatingly promote from within, all whilst providing the skill development, knowledge sharing and mentoring required.
With only 12 per cent of the engineering workforce women (well below other countries) and 12 per cent in building and construction, being recognised for this award is significant in that Resonate Consultants are contributing to an essential ongoing equity factor in those industries.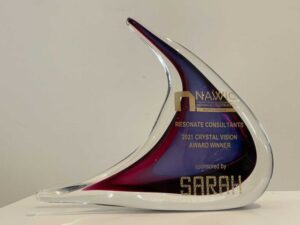 Today, Resonate Consultants employ ten females throughout the organisation, including three graduate consultants, two senior consultants, two business support team members, plus a National Finance Manager, Managing Director and CEO. A 30 per cent female workforce is higher than the average organisation in the engineering industry, and we pride ourselves on our initiatives and values to provide an equitable workplace for all.
In the last three months, Resonate Consultants has introduced a paid parental leave scheme for the organisation. This is a significant step for an organisation of this size and gives parents, particularly women, the confidence to enjoy a greater work-life balance.
Deb James, Director of Innovation, who championed the parental leave program, stated, 'having two opportunities to have maternity leave and knowing that it wouldn't damage my career is game-changing. Having a family and holding a senior leadership position are both incredibly important to me, and I shouldn't have to choose between the two. Resonate Consultants make that possible.'
'We provide access to further education in a range of areas that promote the entire wellbeing wheel and integrate this in all aspects of life. Including engagement of external consultants to support the growth of our team such as coaching from three different experienced female mentors, sessions with a female counsellor and naturopath, membership and education opportunities through Women in Design and Construction (WIDAC), a board education program through a local female entrepreneur and brand development workshops with a local female consultant,' said Sarah.
This has such a positive flow on effect for client work too as we are more productive, sharper and innovative in all aspects.
Additionally, as part of the company ethos, Resonate Consultants pride ourselves on making staff more visible throughout client engagement, documentation and marketing processes, rather than just being a behind-the-scenes worker. This visibility helps the careers and confidence of women across the firm, particularly in an industry that can benefit from seeing more women in these roles. Being able to see women's involvement and their ability to excel has a positive impact on the willingness of other women to enter the industry.
'We encourage our female employees to seek opportunities to influence the wider community and inspire other females through committee involvement, board roles or mentoring roles, through paid time off or flexible time to enable this.
Greater diversity makes our workplaces stronger. Better representation of women will benefit everyone in the industry, including our clients,' said Sarah.
This award means that Resonate Consultants will now automatically be considered for the 2022 national awards.
If you would like to join an award-winning firm to further your career and value women in leadership across Australia, please learn more about our acoustic consultant jobs.