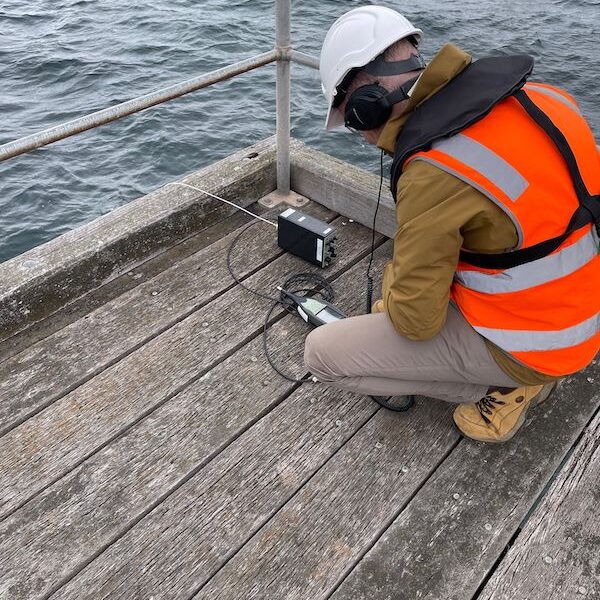 Underwater noise measurements of impact driving
Acoustic research into underwater piling
Resonate Consultants' expertise in acoustics is not limited to sound in air. As the potential impacts of underwater noise from construction on marine life are better understood, there is a growing need for reliable noise data amongst the acoustics community.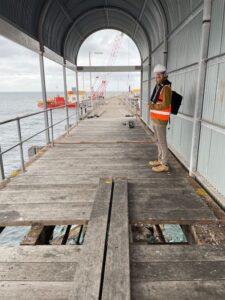 Having dedicated resources to building capability in this space, Resonate Consultants are working together with the South Australian Department of Infrastructure and Transport to update their existing Underwater Noise Piling Guidelines, as part of the Environmental and Heritage Technical Manual.
During the course of updating these guidelines, we identified a gap in current literature, for which more noise measurement data was required in order to better characterise noise sources relevant to piling. Specifically, small diameter piles for jetties and the like, which are commonplace in projects throughout South Australia.
Lachlan (Lachy) Newitt, Acoustic Consultant, in conjunction with Darren Jurevicius, Director of Market Leadership and Nick Henrys, Principal Acoustic Consultant, not only conducted noise measurement works but also delved deeper into the collated data. This research ultimately resulted in a paper titled Underwater Noise Measurements of Impact Driving of 200mm Square Hollow Section Piles.
The data and the associated acoustic research paper will help to not only inform the broader acoustic community of new findings but will also work to form more accurate guidelines for the Department of Infrastructure and Transport.
As such, by undertaking underwater noise monitoring during marine impact piling as part of upgrade works at the Kingscote Jetty in South Australia, Lachy and the team found illuminating data.
'We measured the source level that we were expecting. However, it was the observations we made of the way they operated that were different to other studies, and what has enriched our measurements. Instead of doing one or two piles in a day, they were doing as many as weather would permit,' Lachy said.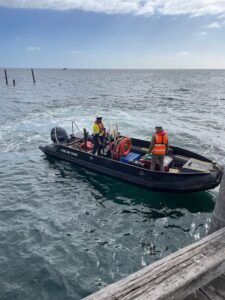 For context, when working with larger diameter piles, standard practice would indicate that one or two piles would be installed on each day. During the course of the day, the piles would be hammered around 800 to 1,600 times.
When monitoring work at Kingscote with relatively small diameter piles, it was observed that up to a dozen piles would be installed during the day and hit up to 1,200 times each. As a result, the cumulative noise impact of the hammering was similar to much more prominent sites.
The understanding gained through this study now means that marine life, from dolphins and seals to sharks and whales, is better protected. This is especially important when you consider that certain species, particularly dolphins and whales, are sensitive to human-made underwater noise at any level, as this interferes with their ability to communicate.
In terms of project guidelines, reliable assessments also result in monetary and time-based efficiencies. Rather than making conservative arrangements, project coordinators can have the appropriate number of marine mammal spotters on-site at the right time and at the right zones. All of which result in a better allocation of key project resources.
More broadly speaking, the data, which laid the platform for the research paper to be written, means that 'acoustic practitioners doing a project anywhere in the world can have a look at the data and use it to better inform their own assessments,' Lachy said.
With this in mind, the research paper and associated findings were presented at the Acoustical Society of New Zealand Conference, Acoustics 2022, in Wellington. The conference '…provides a unique opportunity for manufacturers and suppliers to showcase the latest developments in acoustic instrumentation, software and noise and vibration control products.' Allowing Resonate Consultants to continue to display our core values, particularly the notion of sharing information. Nick Henrys also presented his paper Underwater Noise Measurements of a Cutter Suction Dredge in Shallow Water.
'It's rewarding to go to acoustics conferences, to share amongst peers what we know and what we are interested in. I am grateful to Resonate Consultants for the opportunity to be an active contributor to the acoustics research community and to genuinely be involved in fascinating projects,' Lachy said.
More acoustic firms can implement informed practices by having this platform to present the data and the associated vital findings. Resulting in better project outcomes and, importantly, increased protection for marine life.
If you require leading-edge underwater noise advice for your next marine construction project, don't hesitate to get in touch with us.