Better classroom acoustics indicates better learning
Addressing criteria set out for educational spaces
With nearly ten thousand schools in Australia, improving classroom acoustics is highlighted as a gateway to better learning.
Classrooms are, by nature, noisy places. But the level of noise is not always conducive to positive learning outcomes. And we've already discussed where studies have found that poor classroom acoustics and design could be linked to lower skill and therefore diminished earning capacity.
Typical acoustic concerns for schools in day-to-day learning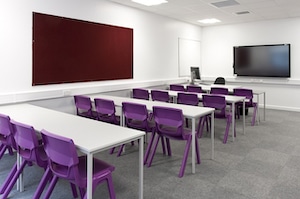 Overly reverberant classrooms can pose several adverse effects not only to students but teaching staff as well. A '…study suggest that long reverberation times, which are associated with poor classroom acoustics as they generate higher noise levels and degraded speech intelligibility, bring pupils to a reduced perception of having fun and being happy with themselves.'
Firstly, there can be higher internal ambient noise levels due to gratuitous sound reflections.
As well as higher levels of speech required from teachers to overcome classroom noise and communicate with their class. As you'd imagine, this leads to much greater levels of fatigue over the course of a day or dysphonia (disorder of the voice). Poor speech intelligibility, such as tonal quality of speech, from excessive reverberation, can also be expected from the talker.
'Ambient and activity noises affect teachers' voice use. Under loud ambient noise teachers seem to speak habitually loudly, and under loud activity noise teachers' ability to react to loading deteriorates.'
Elevated speech to overcome poor room acoustics can also lead to higher levels of noise penetrating through dividing partitions to adjacent receiving spaces, i.e. classrooms next door.
Additionally, this becomes even more critical when considering other factors such as students who speak English as an additional language— of which there are over 600,000 in Australia – younger children in early stages of language development and neurodiverse or students with hearing impairment.
Guidelines for classroom acoustics
Resonate Consultants are proud to have worked nationally with architects and education departments on the acoustic design of over 350 education projects, from childcare and early learning centres to primary schools and high schools, colleges, universities and TAFE, steered by the guidelines in each state.
One example is the Victorian School Building Authority (VSBA) (formerly Victorian Department of Education and Early Childhood Development)— an organisation that Resonate Consultants are proud to be working with on the design of many of their new school projects — have developed a set of minimum quality criteria for all government school construction or refurbishment projects across Victoria, namely the Building Quality Standards Handbook (BQSH)
The BQSH describes a number of standard elements within any construction activities, including acoustics for Victorian schools. Each state has their own set of guidelines and requirements. These guidelines also cover specialist schools that provide education for neurodiverse students.
Criteria are derived from and regularly updated with many relevant standards and guidelines, evidence-based research and collaboration with relevant authorities. In terms of acoustics, reference is also made to the Association of Australasian Acoustical Consultants (AAAC) and their Guideline for Educational Facilities Acoustics.
Within these guidelines and regulations, acoustic criteria can readily be applied to private or independent school building projects that are not strictly bound by state requirements but benefit significantly from following the overall acoustic intent.
Beyond classroom acoustics
But it's not just classroom acoustics that needs to be taken into account in educational environments. It's the learning spaces beyond them as well.
Within educational institutions, there are typically specialist learning areas , such as:
drama theatres
assembly halls
music auditoria
recording studios and control rooms
sports halls and gymnasiums which double as assembly halls and
open plan collaborative learning.
In addition to the assessment of internal noise levels, reverberation and acoustic separation from adjacent areas, the spaces listed above can benefit greatly from specialist assessment via three-dimensional acoustic modelling software such as EASE, Odeon or CadnaR and the like.
Acoustic modelling simulations for better calculations
Where statistical reverberation calculation methodologies provide ways to estimate reverberation times within standard room shapes, there are limitations to what these calculations and approaches offer more complex room shapes and layouts. And 'Globally, many schools are replacing traditional classrooms with innovative flexible learning spaces to improve academic outcomes.'
Using raytracing algorithms, 3D acoustic modelling software can simulate the acoustic performance within a room as accurately as possible whilst addressing the:
scattering of sound from irregularly shaped surfaces (helpful in eliminating unwanted phenomena such as flutter echoes)
late reflections or standing waves received at specific listening points, affecting quality of sound
targeted placement of acoustic treatment within the rooms
clarity (C50 or C80) or direct-to-reverberant signal ratios and other parameters of musical or speech-designed spaces
placement, alignment and tuning of PA systems to amplify coverage in audience areas
speech intelligibility predictions within the room via the  Speech Transmission Index (STI) descriptor
design of the mandatory Emergency and Warning Intercom System (EWIS).
These simulations inform of best acoustic treatment requirements that we can propose to the client to mitigate some of the severe issues described above.
Acoustic treatments for improved classroom acoustics
Some of the acoustic treatment variations that we are likely to propose include:
Better acoustic performance of separating partitions such as walls, glazing, doors and flooring.
Considered layout of learning areas that situate high noise generating rooms away from areas with quiet room and noise-sensitive requirements (for example, music rooms adjacent to open-plan collaborative learning areas).
Treatments to mitigate external noise intrusions such as rain, aircraft, traffic/train and proximity to play or circulation areas. As well as excessive continuous noise sources such as heating cooling and air-conditioning.
Resonate Consultants rely on our considerable experience in educational acoustics, united with our steadfast foundational values, to find pragmatic approaches to classroom acoustic solutions. We aim to find the right balance between achieving realistic acoustic targets described within the design standards and cost-effective solutions for the project design team.
To adhere to and exceed your state's quality standards in educational spaces, involve Resonate Consultants in your next project.