AuralEyes is a community engagement tool that allows anyone to hear and experience the predicted noise outcomes of a project.
Managing the impact of environmental noise emissions on the community is an important consideration during all stages of projects located in close proximity to noise sensitive areas such as residential, health and educational land uses. Resonate has extensive experience in conducting operational and construction noise assessments across the energy, infrastructure, mining and building sectors. It has been during these projects that the need for, and value of community engagement has become increasingly evident. To address this need, Resonate has developed AuralEyes. This tool is a powerful addition to our holistic acoustic assessment expertise, strengthening the relationship and trust between community and project team, and facilitating best project outcomes.
AuralEyes Applications
Enabling simulation of predicted noise levels for the construction and operational phases of your project,  AuralEyes allows early appreciation of what a noise level means in reality.
Applications include:
Construction plant and activities – particularly where "Out of Hours Work" is proposed. This includes above ground airborne noise and ground-borne noise associated with tunnelling and other underground activities.
Road and Rail Projects – operational noise level increases associated with road and rail projects and appreciation of the potential benefits of noise mitigation techniques such as:
– impact of earthworks design on noise levels
– noise wall effect options
– architectural property treatments
Wind farm – construction and operation outcomes
Mining –  construction and operation outcomes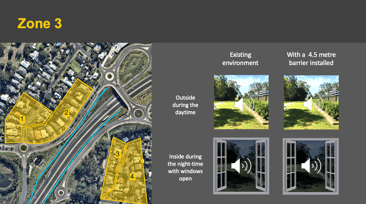 Client Testimony
"A substantial majority (approximately 90%) of high risk receivers were happy with the [AuralEyes]. There was repeated feedback that residents were very grateful to experience the sound, rather than reading about it on a piece of paper. We also received positive feedback from our own client on the outcome of the labs."