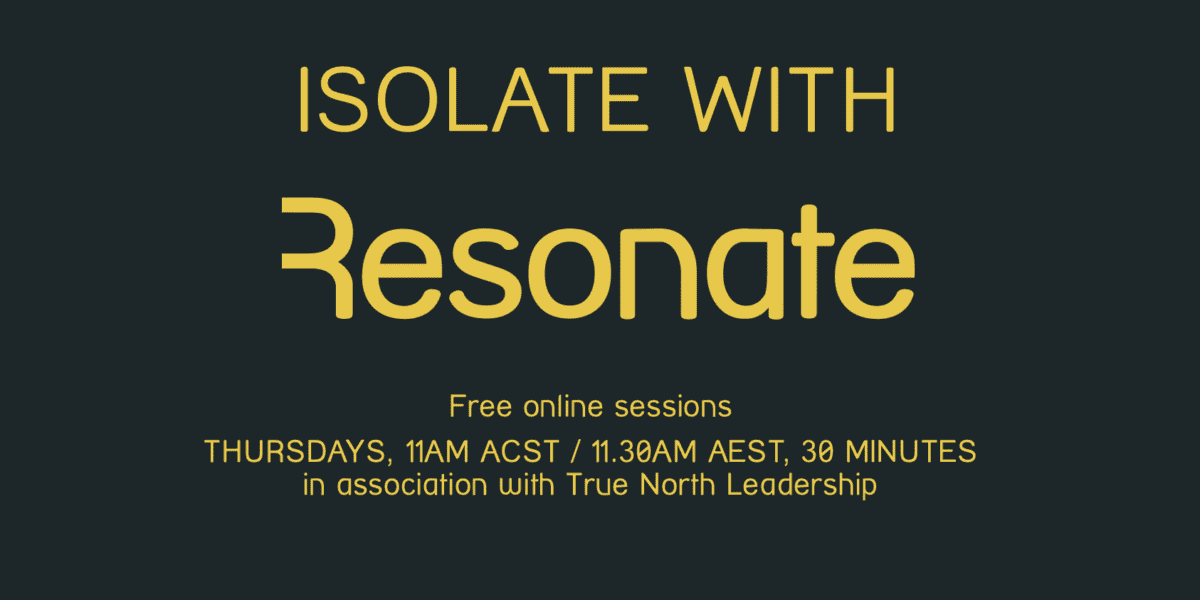 Isolate with Resonate | Free online program
Working in isolation is lonely. Many of us are navigating this on a semi-permanent basis for the first time. Resonate have established a series of discussion forums facilitated by True North Leadership. 
Join our national team online as Wayne and Gabrielle Enright of True North Leadership, lead our discussions covering the following topics each week:
Adapting to Disruption Mindfully
What happens when certainty, successful routines and comfort zones are disrupted?
What is the difference between reacting and responding to adversity?
Impacts, challenges, strengths, opportunities, adaptations – resetting our compass.
How can we mindfully navigate the challenging terrain ahead?
Staying Connected while Working Remotely
The impacts of 'social distancing' and working remotely.
Handling distractions, dis-engagement, social isolation.
Staying motivated and focussed during turbulent times.
Daily Structure – Balancing tasks, people and self-care.
Positive Psychology Approaches to Adversity
Mindfulness skills & application
Thinking Traps and ways out / Mindset
Gratitude – Looking for the Blessings
Strengths-based Problem-solving
Building Resilience and Agility
The Wellness/ Resilience Continuum
Immunity and Holistic Health
The Well-Being Wheel
Mindfulness & Mental Flexibility
Session attendees will receive additional support materials.
We will develop the sessions each week in response to your discussions, comments and questions.
Future sessions may include online Tai Chi or Yoga, tips for juggling parenting and working at home.
Session information:
WHEN: Thursdays (11am ADL) 11.30am AEST (commencing 26 March)
DURATION: 30 minute duration
HOW: Zoom (link will be emailed to all who register)
View a recap of the first session.